In the not so distant past, if you would have asked me what my daily camera of choice was, I would have told you it was my Nikon. I want photos from everyday life, but don't want to sacrifice the quality for the convenience of a point and shoot camera, so I use my "big camera" as it's often referred to as. I love that camera, but what I DON'T love is how hard it is to carry it the places that I'd like to take photos.
Last year, I started looking into a smaller camera for my non-business related photos. My main goal was to not sacrifice image quality, manual control over the images, and no nagging feeling that I should have toted out the big guy instead. What I ended up with really changed how I interact with photography on a day to day basis, and has returned my "freedom to snap". I set out to find a camera that was high in photo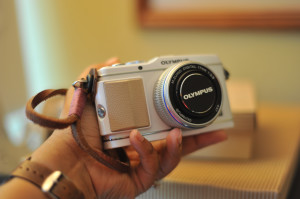 quality, small and portable.
After much research, I ended up with the Olympus EP-3, and even though it was mid range for Olympus, this camera is fantastic for me. No more lugging the huge camera, figuring out which bag fit all of my gear, trying to decide how many lenses I wanted to bring along. To combat my "which lens" dilemmas, I picked up my EP-3 with only a 17mm lens (equal to about 35mm on my large camera). After a year and a half, I'm happy to report I made with the single non-zooming lens. There were no decisions other than take a photo or not. This camera is small enough to fit in all but a few of my purses — another bonus I had missed.
How are the photos? I think in low light, my lens is a bit noisy, but I could just be a little nitpicky.  If you're on the fence about buying a new camera because you feel like you need to go big, do your research and see what other options are available.  My camera is tiny, but very capable. It has more features than most people use on their DSLR's, and if you like to use your camera in manual mode, you can do that too by programming a few buttons. I like it, once I got the hang of it.  It has in camera art filters, and a host of interchangeable lenses including zooms that you can purchase if needed.  The lenses are also very small and lightweight – even the zoom lenses.
So, long story short, if you need a better camera, don't immediately go for the large DSLR if you don't need all of the features. Check out all of your options, and you just may end up with a gem that better fits your daily life.
Now for the images… All but the first one taken with my Olympus Pen E-P3.

On a side note, if you have another system – you can purchase adapters and use some of your old lenses.  With the $24 adapter, I'm able to use my Nikon lenses with great results (See the photos of President Obama's visit!).  I was pretty sure that with bag checks and security, professional cameras would not be allowed into the venue without a valid press pass. If you know me…you also know there was no way I was going without a camera.  I stuffed my Olympus, converter and 3 Nikon lenses into my tiny camera bag and crossed my fingers.  The guy checking my bag said "Nice little camera..I hope you can see him with this!".