Since I'm an on-location photographer, it's crucial that I find great spots for photos.  In order to find these cool spots, I often head out alone or with a friend, cameras in tow looking for places that have potential.
I'm all about the *living backdrop*, getting out and spotting is really cool, I always find something I never knew was here in town – or in the case of last weekend, in a neighboring town.
My first trip two weeks ago was with my friend Cher, she's usually up for exploring. My main thought was grunge and texture.  I found a lot of great spots, though I'm not sure I'll be able to convince anyone to have a session in the cemetery!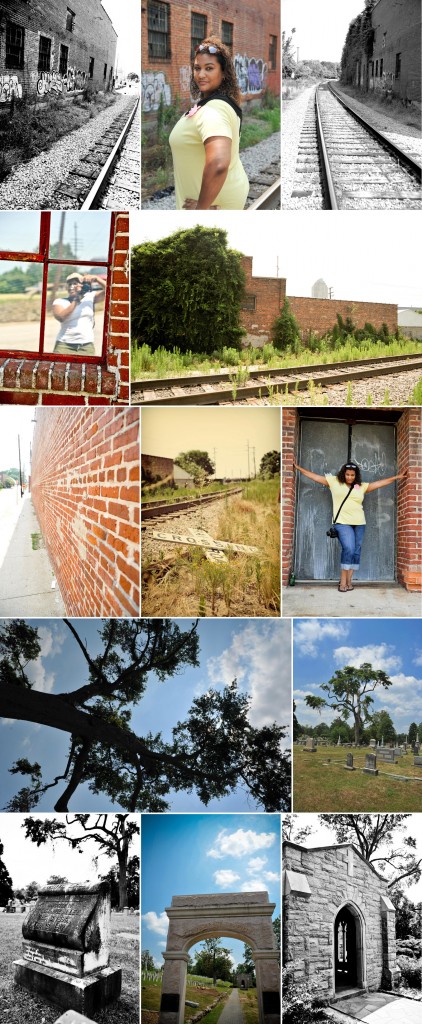 Did you notice Cher's camera strap? I have one as well, it's made by Black Rapid, and it's the RS-W1 strap for female photographers. It's got a nice feature that allows it to lay the right way over your chest without the uncomfortable feeling or look of a normal strap.
Then, last weekend, my friend Shirley from Wild Blueberry Ink and I got together to scope out a totally different scene.  She had been telling me for a while about going down to Smithfield to the river. The Neuse river runs all through this area, and depending on where you are, you get a totally different view.  Down that way, it's very calm & serene.
As we were down there, she took me to Selma, a neighboring town that had TONS of charm, I'm definitely going back. And supposedly, Selma is some sort of mecca for local antique-ers. Who knew?  We went to a flea market that was an indoor feast for the camera.  I saw SO many weird things…including a very very creepy puppet theater with hand painted naked women.  I would say "mermaids"…but some of them had no bottoms on! *gasp*. I can only imagine this thing cropping up at the local library for story time. I'm sure the kids were enthralled with the nude exhibition playing out before them.
I'm definitely heading back there, sooner rather than later.  Of course, I picked up the bowling bag (it was $2) – soon to be converted into a camera bag, and a cute plate on a stand to hold my rings. I also thought it was cool to see a photo of the Bodie Island Lighthouse, which is where I took Donovan's 4th birthday photos.  The baby giraffe I wanted, but didn't know a) where to hide him and b)what he was even good for!