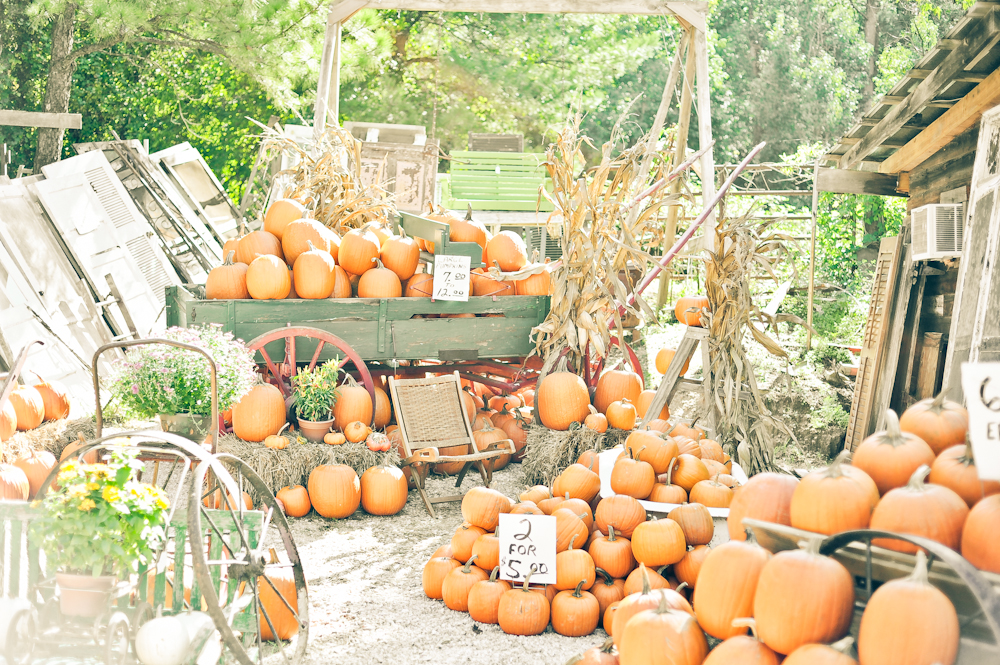 Yesterday was my friend Shirley's birthday, and along with her sister Dawn, we got together and went to a very cool antique village nearby and had lunch. To say that the place we visited was "cool" is almost an understatement.  It's very cool, but so much more – especially if you're into salvaging things, remaking & reusing odd finds.  The place is FULL of odd finds!  We stayed for over an hour browsing all of the cool things & making mental "things to make" lists.  Dawn was very smart & used the Pinterest app to take photos to load straight to her Pinterest board. I'll have to remember to do that next time!

Outside everything was decorated for fall. There were pumpkins & mums, fall colors, hay bales & corn.  I love how they always change up the decor depending on the season. The village is made of about 5 or 6 smaller buildings full of antiques, and 1 larger building. Outside is used as well as inside.  It's tucked in a little spot you'd never think to stop at if you are in Raleigh – it's off of Durant Road, after the train tracks close to the Capital Blvd. side of things.  It is SUCH a feast for the eyes inside & out.  If you love vintage jewelry, or love finding things to re-purpose for the home, you have to visit.  And they have some of the best vintage chandeliers I've seen around, for quite reasonable prices (and most are plugged in and working!).



This last photo is of this great outdoor fireplace mantle, it would be cool outside on a patio or in the backyard, this one had a mirror, some frames, candles (even a candle holder with eyeballs in it) – it was very Halloween, without any of the usual pumpkins & jack-o-lantern decor.  To the side was an old bed spring leaning against the wall with white lights woven through the springs.  There were used wine bottles placed in the large spring coils.  Great idea if you love wine & always have bottles around!

So, are you decorating for fall, or are you like me, and just too stumped to make a move?  I need to get some mums & pumpkins at least, and then I'll worry about inside later.  I know lots of people have tons of fall interior decor they pull out & place around – but since I'm not one much for sit-arounds & knick knacks, I'm sure that's why I have no spare decor.  Maybe I'll make a feature wall or feature area that I can change for the season. I may have just the perfect place on my stairway.