Because this post is of a family who is using shots for their holiday card, I'm not going to put it all out there, this one is more of a teaser post featuring the Hines family. Around here, holiday cards are a big thing – especially when you get NOTHING good in the mail these days but advertisements & junk. I look forward to sending & receiving cute cards every year, and I won't be the one to post holiday spoilers! Check back in a few weeks when I post more favorites from this session.
Leigh, of the Hines-Sight blog is running a very, very cool holiday giveaway to one lucky reader, and I thought this would be a good time to do a sneak peek of some of her images…and talk a little bit about some of the unexpected things that happen when you're an on location photographer – things like wind, cloud & gloom when you get to a location that's usually perfect!
So, Leigh & I planned their session about a month in advance – it's nice to have extra leeway for coordinating outfits and time to reschedule buffered in in case anything goes wrong – especially since these were going to be on a Holiday card. We planned to meet at City Market, in downtown Raleigh, because on Sunday afternoons, there's no better place! Cobblestone streets, hidden walkways & it's usually completely empty. Late day sunshine down there is an added bonus because it warms everything up so nicely.
Well, on the way downtown, I notice that it seems a *little* cloudy. It's sunny at my house, so I think nothing of it. It's mid-November, we've had a very mild Autumn and the leave are in their peak….well, in SOME places around town!
I take the scenic route downtown & I pass by Mordecai Park, which I've never stopped to explore because usually as I zoom by, all I see is a big yellow historic house. But on this particular day, out of nowhere it was a fall color explosion. The house, the grounds and everything around it was lit up in fall colors. Luckily, the grounds had been unattended & leaves were all over. I immediately start planning a fantasy photo shoot in my head, but I proceed downtown to my shoot location. Downtown…where there are no trees and the only leaves to be found are in the gutter – and it's terribly overcast & windy by the time I drive the 15 minutes from my place. I meet up with the Hines family & have a brilliant idea. We're going to do 20-30 minutes downtown, then head for brighter pastures – let's move this party to Mordecai, I suggest! The family agreed, and after a few shots downtown, we changed locations. It was seriously getting gloomy down there!
We reconvened at Mordecai, where we were the ONLY people on the entire grounds. Perfect! Once we got there, the children loosened up, they ran & played in the grass, kicked the huge osage orange fruit (which are actually more closely related to mulberries than oranges!).
This location was absolutely perfect. While most people fear overcast days, photographers generally love them! No shadows, no sun glares to battle with, and in the wide open yard, the light was perfect. Under the trees, the color of the leaves was amazing.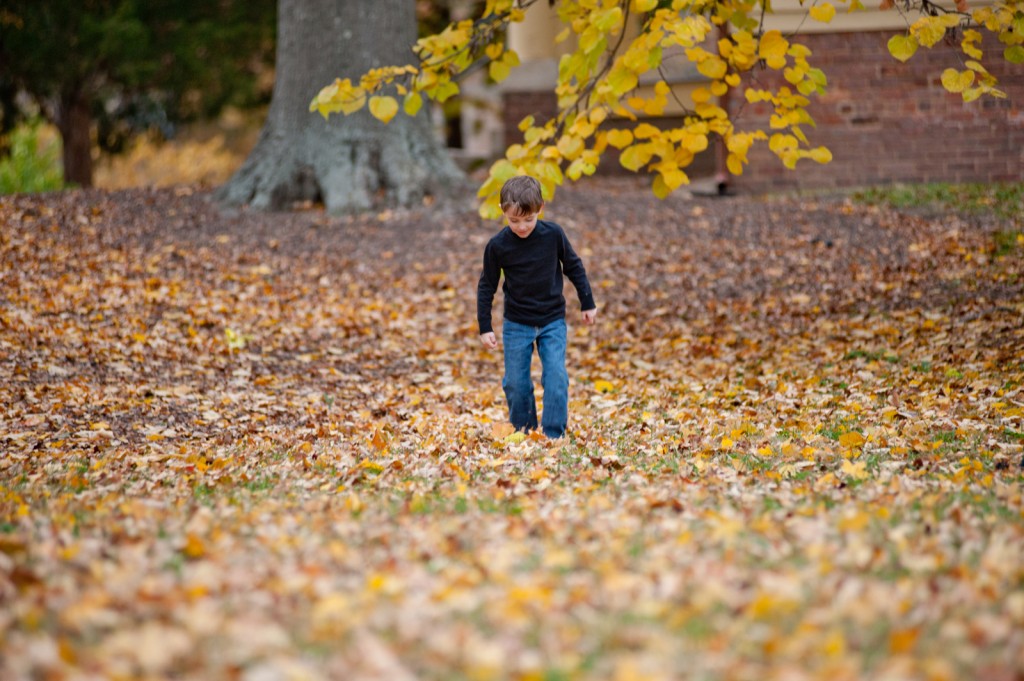 The kids played & for the most part forgot that I was in their faces with a huge camera lens – and that's what I like to happen! I tell you, there is nothing better than hearing baby giggles & laughter while you get to work. Leigh, thanks for bringing out the family, coordinating perfectly with everyone's gorgeous blue eyes & being flexible!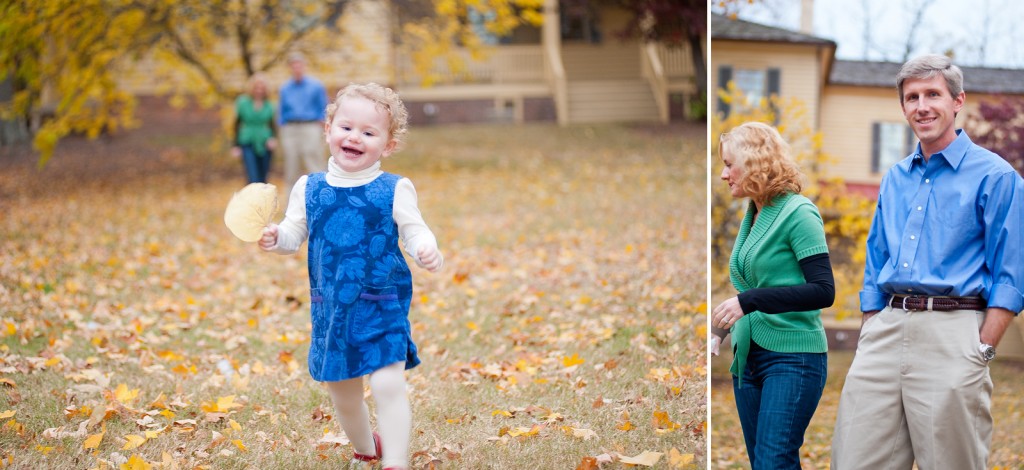 This area has quite a few gems all within a 30 minute drive of downtown Raleigh. You would be surprised how little it takes for a location to be a fabulous backdrop. If you're visiting from Leigh's blog & want to enter into the giveaway, tell me what YOUR favorite local photo friendly spot is – if you win, we may just have to check it out together!