As someone who has used her own child for photo sessions, to test out new gear & for learning activities…I have tons of photos of my son.  Lucky for me, he is still at the age where he's very entertained by photos of himself.  Our home decor more than satisfies his need to laugh & giggle at himself in various stages of life.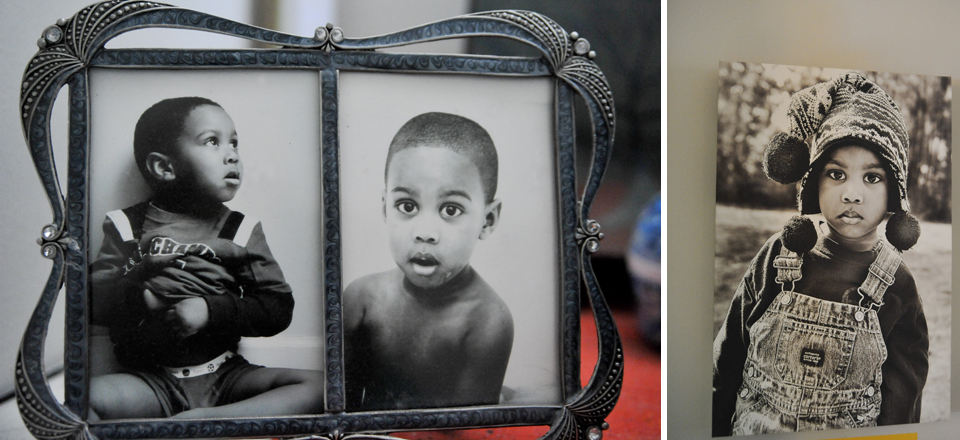 This year as Valentine's Day approached, I received an email from Shutterfly.  In the early days, I uploaded absolutely everything to Shutterfly as a way to share photos of the little newbie with friend & family.  My mom loved it because it allowed her to print & frame probably more photos of him than I have! As years went on, I eventually found myself using other services, but always kept my account active.  My friend Shirley from Wild Blueberry Ink has a shelf full of enviable Shutterfly book creations. Every time I visit I say "one day…I'll finally put together Donovan's album for his Xth year" (whatever age he happens to be on). But at this point, I need an encyclopedia sized volume!
About a week before Valentine's Day, I opened the email to see a cute Valentine's book.  Simple enough, just upload your photos, design a page using template elements & print.  Besides that, there was a 40% off coupon.  I thought it would be a great gift for Donovan, since he loves albums & I haven't done nearly enough to keep updated with album prints around here.  I quickly put together a collection of my favorite photos from 2011 of him, and made a book.  Though I chose the regular shipping option (and estimated delivery was between February 13th and 17th) I kept my fingers crossed because Shirley said she always gets hers early.
I received mine DAYS early! It came out absolutely perfect. I picked the 8×8 size, because it's great for kids.  Donovan approved, and has taken his book to sit & reminisce with on a daily basis since last week. If you need a great album & don't have the time to design it all yourself, do yourself a favor & hop over to Shutterfly & pick one of their premade templates.  Many are designed by some of the top digital scrapbook artists & they make it so you really can design a book in 30 minutes or less.
Completing an album felt good, and now I need to tackle my "Years 0-6" book, which I'll be collecting for up until his 7th birthday in September.  I'm thinking of using Blurb for this album, because I have so many photos to add.  My plan is about 100 of my top favorite pictures of him as full page images, and then another 100 or so compilation image pages.  Where I'll ever find time for this I don't know, but doing a section per week sounds doable.