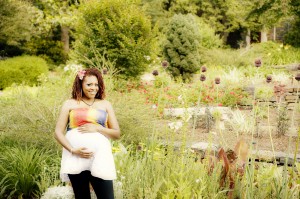 As I post this, I'm sure Taundra is somewhere snuggled up with her beautiful baby girl.  Congrats Taundra!  We got together on a very hot Friday afternoon, and much to our surprise found the park practically deserted…which is hard to come by at Duke Gardens, since it's right on campus, and usually jammed packed.  So, having a very pregnant mom, and an empty park made for a very quick session on a lazy kind of Friday.
After one or two rounds of "…but I don't know *how* to pose" (my theory is that…gorgeous folks say that because they've never had to worry about looking bad in a photo!!) we fell into a great rhythm. These photos absolutely blew me away!  Taundra is so funny and easy going, it was hardly work to get these out of her. I've known Taundra for a few years, and I've never seen her out and about looking less than fabulous, and that day, she was positively glowing – as a matter of fact…she didn't even break a sweat and it was pretty warm that day!
Taundra, thank you for trudging through the park with me & braving those wild geese! By the way, if you're in the Raleigh area and need a fabulous makeup artist, please contact Taundra, she's been sending me perfect faces for a while now, and finally has her website up.