Since I am totally on location (except for newborn sessions) I tend to scout around town a bit looking for great spots. I have a few spots that I always suggest to people, mainly because they are so versatile. My all time favorite spot locally is the Sarah P. Duke Gardens on the campus of Duke University. To say this is a great spot for most all portrait sessions may sound like a stretch, but there are so many nooks and crannies in this place, it's hard not to love it and find different spots every time I go.
By moving a few steps to the left or the right, an old familiar shoot locate becomes something brand new and interesting. Evening light versus morning light can change the whole ambiance of a shoot.
Yesterday morning, I decided to go out and take a very early morning tour of the park. The weather was going to be in the seventies, which made for a warm morning here. I loaded up a few lenses and headed off to the park. Familiar areas looked brand new in the morning light.
Take for instance this scene – the little Asian shelter by the pond in the Asiatic Arboretum. I'm sure it has a proper name…but I have never taken the time to read the little garden sign that explains.  Same place, different light, slightly different viewpoint.



This is one of my favorite spots in the park, the bamboo forest. This is the place where Donovan fell into the muck pond/cesspool when he was 3….and I had to carry a naked, muddy kid from the park and both of us rode home absolutely filthy. Unfortunately, I have no photos of that, but the tall bamboo here w/the light shining through is something you just don't find often around here.


The pond stairs from different angles.


And there are some places that are unexpected gems at a huge park – places you wouldn't notice much, but make a nice backdrop for photos.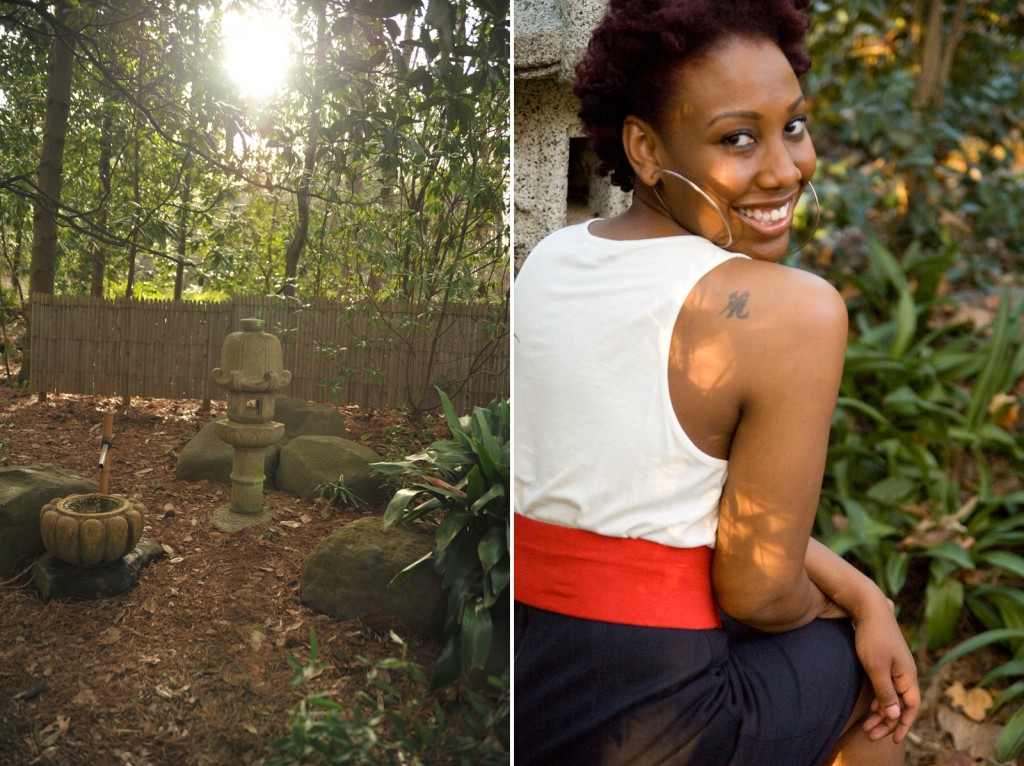 Again, there are spots that are better at some times than others.  The spot below is one of them.  You may need to click it to get up close and personal with the details.  In the middle picture, the water was clouded and scummy, the first photo, the water level is below normal, but on the far right, it was clear (as it gets I suppose) and worked really well for the photo.


A location will never be "over done" as long as you vary up certain elements, a park like this is constantly in bloom through the seasons, and every season brings a new great spot for photos.
As I took pictures of spring, I made a few desktop backgrounds. Feel free to download and use these, simply click on the image, and when it opens large, right click & save on your computer.